Determining Your Watch Strap Size
Our straps are bespoke and handcrafted to fit with precision. Determining your correct size can be done in seconds following the steps below. You will need exactly two measurements to order your strap: your watch's lug width (the width between the area where your watch strap fits) and your wrist size.

Step 1: Determine your lug width via one of the following ways:
Use a metric ruler or digital caliper to measure the distance between the inside of the lugs of the watch face in millimeters (mm).

Check the back side of your current watch strap to see if it has a number size imprint shown in millimeters.

EASIEST OPTION: Download our printable watch strap sizing guide to help you accurately find your lug width.
Step 2: Determine your wrist size/strap length via one of the following ways:
Measure your wrist with a soft tape measure by wrapping it around your wrist at the exact area you wear your watch.

Measure your wrist with a piece of thread by wrapping it around your wrist where you wear your watch. Lay the thread out and measure the distance from the starting point to your mark on the thread. Next, click on the "wrist size/strap length" drop down box on any watch strap page and choose the size that matches your wrist measurement.

EASIEST OPTION: If you have a leather strap that fits you well, measure the long strap and short strap length-wise separately with a ruler in milimeters. Don't include the buckle when measuring the short strap. Note, if for example, you measured the long strap and it was 120mm and your short strap is 70mm, you'd match that to our size chart and see your wrist size is 120/70. If your size doesn't exist in our strap length size chart, email us first and we'll help you out.
Don't have a ruler?

Download our printable watch strap sizing guide

which contains a metric ruler.
Tip: If you measured your wrist and it turns out, for example, that your wrist is exactly 7", you'll notice it's at the end of the 6.6"-7" size range, which would be a 125/75 strap. This is your exact size for the perfect fit. There's no need to go up a size because you'll be one size or the other as there aren't any in between sizes. If you have any doubt about which length is right for you, please contact us before purchasing. We'll be more than happy to assist you.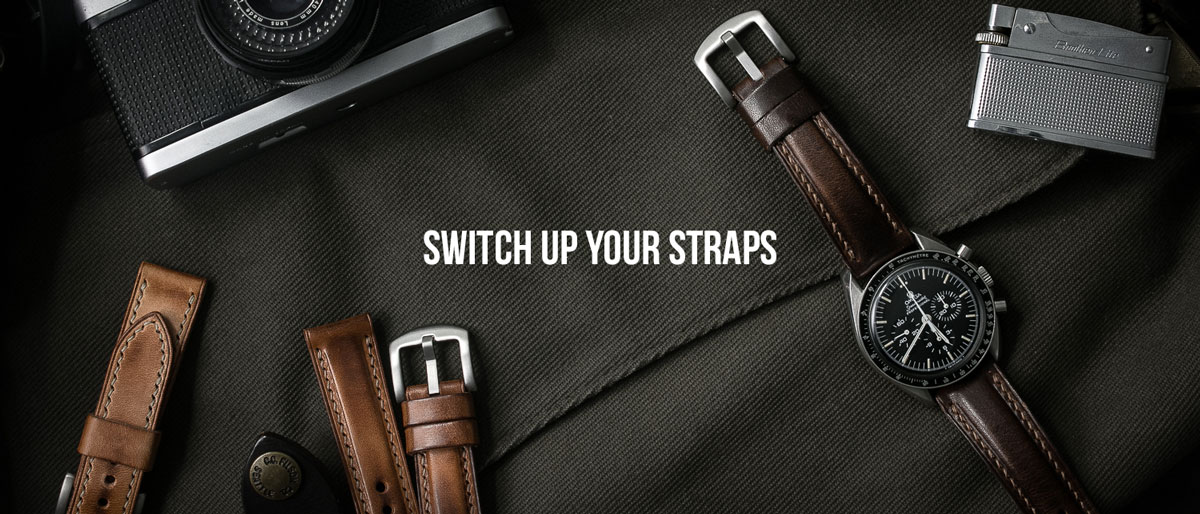 Step 3: Switch up your new strap - It's super easy!
Our watch strap lengths are listed below
If you prefer a size not listed here, just email us about it before placing your order and we'll help you out.
5.6 - 6.0" wrist (142 - 152mm) = 110/65

6.1 - 6.5" wrist (153 - 164mm) = 120/70

6.6 - 7.0" wrist (165 - 178mm) = 125/75

7.1 - 7.5" wrist (179 - 190mm) = 130/80

7.6 - 8.0" wrist (191 - 203mm) = 135/80

8.1 - 8.5" wrist (204 - 216mm) = 140/85

8.6 - 9.0" wrist (217 - 229mm) = 145/90
What do the tapered sizes mean?
Tapered straps start out wider at the lugs (the end that attaches to your watch) and narrow down or taper toward the direction of the tail and the buckle. So for example, if your watch has a 20mm lug width and you want a tapered strap, then you would choose a 20/18 strap. This means the lugs width is 20mm and the buckle and tail width are 18mm. Keep in mind that the higher number is the lug width and the smaller number is the buckle and tail width.
How do I change my watch strap?
It's so super easy. Anyone can do it. Click to learn how to change your watch strap.